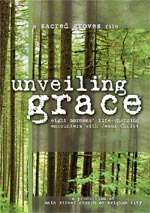 LINKS:
Dear *|FNAME|*,
"CHRIST IS RISEN! HE IS RISEN INDEED!"
This ancient and joyful refrain was proclaimed all over the world this past Resurrection Sunday...in a myriad of languages, in countless churches, just as it has been for centuries upon centuries.
And what a marvelous truth it is! This very fact--this historical fact--serves as the only genuine, incorruptible and lasting hope that any of us have. Jesus has risen! He has conquered sin and death! And in doing so, he has become our salvation, giving us the free gift of eternal life, to all who will embrace Him! If ever there was cause for celebration, this most certainly is it! Good news? GREAT News!
It is this Good News that we share with anyone who will hear it. And it is this Good News which lies at the very heart of the recently-released film, "Unveiling Grace," the story of eight former Latter-day Saints who, like the women who showed up at the tomb that Sunday morning nearly two thousand years ago, have encountered the reality of the risen, living Jesus Christ.
We are greatly encouraged by the response that this film has received...from seeking Mormons, former Mormons, and Christians who have been using these as outreach tools. We've gotten emails, phone calls and have had face-to-face encounters with people who have been encouraged--and even shaken--by the video. One LDS woman left us a message that she watched it on a weekend, and was so moved that on that Monday she submitted her resignation to the LDS Church.
In the less than two months since its release, nearly 3,000 DVDs have entered circulation. A lot of those have been here in the Intermountain West, where Mormonism is more prevalent. But many have also been sent all over North America, and across both oceans. We've had numerous requests for the film in Spanish, which we are currently exploring.
On this Thursday (April 28), Unveiling Grace will be shown all over Utah (and even into some of the neighboring states) at 8:00 PM on Salt Lake City's KTMW TV-20. (This will be a special presentation on Polygamy: What Love Is This).
Would you please pray with us--rejoicing for what has been accomplished, and praying that the Lord would use this film--and indeed anything else--to draw more and more dear Mormons to Himself! And please be praying for those have been shaken and moved to action because of this film...they are on a difficult journey to be sure; but if their steps are toward Jesus, we know it's a path that will end with rejoicing.
If you've not yet had an opportunity to watch Unveiling Grace, you can watch it online. And if you think it's something worthwhile to have on DVD to share with Christians or Mormons that you know, we offer it at a very low cost--just $4 a copy, or $3 a copy for 10 or more; and contact us for a quote if you want to get 100 or more. (These prices basically reflect our break-even point, factoring in the number we've given away).
And if you have seen it, please, by all means, let us know what you think of it! You can even leave comments about it on our Facebook page (see link below), to encourage others to view it.
May God richly bless you...and may the joy of our Risen Lord and Savior strengthen and encourage you in all things!
--Your friends at Main Street Church